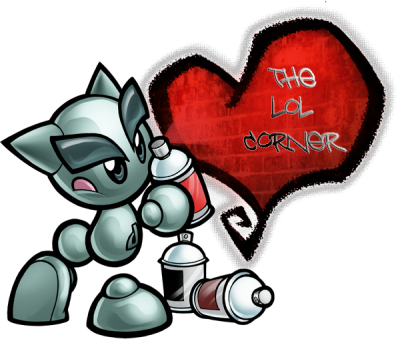 The LOL Corner
This regular news article promises to make you giggle, chortle, and laugh your ass off.
Every edition will feature a collection of the funniest dAmn chat quotes.
dAmnIt!
is a database of funny quotes submitted by deviants like you.
When something funny happens on dAmn, share it with everyone! It only takes a few clicks, and while you're there browse through all the other hilarious quotes!
Thanks to everyone who have submitted quotes! We surpassed our 2000'th quote!
Feel free to note me with suggested dAmn quotes to go into the next edition.
The Quotes
<Kyogo> i know i had a problem with bugs, get laid it works good

<Kyogo> fuck... raid*
<
playboy22> haha tru tru thats y u find sum1 who is old enough to drive lol n e way who said i kill ppl lol
* Boxymoron glares at playboy22
<
playboy22> y r u glareing at mi wat did i do to u
<Boxymoron> playboy22: you annoy me with your typing skills, or lack thereof.

<
playboy22> wat typing skills?
<Boxymoron> exactly
<Comrade-Kelly> It is getting warm in my room.
<Chuckskull> Oh good, I'm just outside

<Comrade-Kelly> Oh, fantastic. The door is unlocked.

<Chuckskull> COVER ME! I'M GOING IN. :thumb8141183:
* Chuckskull should stop talking to his condoms
<DJStrife> carolinebradley: You heard MJ died today right?
<kirby> MJ?
<dammitMEL> MJ?
<DJStrife> dammitMEL: Michael Jackson
<dammitMEL> Michael Jackson?
<dammitMEL> omg nooo
<DJStrife> Yeah, apparently food poisoning or something.
<kirby> no he didnt..
<dammitMEL> You're such a liar.
<DJStrife> Coroner's report cites death as food poisoning. He died from eating 12 year old nuts.

<dammitMEL> LMAO
<dammitMEL> SHUT UP
<Tmunky> OH!
<Tmunky> PERFECT IDEA!
<ashwynmayr> I'm scared to ask.
<Tmunky> I need feather pillow, 1 lb of butter, a box of chex mix, 3 bananas, and a small poodle.
<Tmunky> >.>
<ashwynmayr> Oh dear.

<Tmunky> this is gonna rock.
<ShadowGamers>I love it how the chat has died and that by mentioning that the chat has died the chat will still remain dead but with one person giving a one emote reply in their distaste that I said that the chat is dead
<Stykera>

<ShadowGamers>There we go
<modest-kitten> Makow: unfortunately our aussie high schools dont have halls or walls or even very good fences
<Exen> modest-kitten: where do you park your roos?
<
PoeticWar> sometimes i lose track of my feet for weeks thanks to my prodigious bosoms.
<carolinebradley> kyzmth: bet you can't guess my name

<carolinebradley> .. no wait.. fuck

<whoatherechief> ega drunk
<whoatherechief> i ;like when peoplke buy me beers
<whoatherechief> are you guyxz sgoked that :icon evoquesonething: got dev awqrd galllery director tjing?
<youthculture> dev award gallery director thing?

<whoatherechief> i think i go nowtoo
<chix0r> happy hangover!
<whoatherechief> botjong asp,me aspirons wpnmt focx
<whoatherechief> i mesna
<whoatherechief> notjing spome as[p[ioronds wont fox
<chix0r> lol
<whoatherechief> nothing some aspirinsnwpnt fix
<whoatherechief> fuick
<kamizu> oooh
<kamizu> gotcha
<whoatherechief> you know whafr i mean
<chix0r>

<kamizu> wow
<chix0r> I did yeah
<chix0r> it was just fun to see you keep trying
<whoatherechief> /SETAWAY F.SKUBSEFUHSD
<chix0r> hahaha
<whoatherechief> cuio:af
<VernonX9000>

<whoatherechief> HARD
<whoatherechief> A/seta/wayu fucl.er
<whoatherechief> mnother dfuicjkers
<VernonX9000>

* whoatherechief is away: fuck